G.H. Mumm Grand Cordon Champagne - gift boxed
Multi Buy Price

HK$299

in any 6+

Multi Buy Discount Percentage

41% off rrp
Palate Profile
This distinctively fresh, full-bodied Champagne's consistently impeccable taste symbolizes the richness and finesse that have long been MUMM hallmarks. There is ultimately no more eloquent proof of Georges Hermann de Mumm's maxim that "Only the best" will do.
The wine displays a golden robe of enticing brilliance, energized by an exuberant stream of fine, persistent bubbles. On the nose a bracing, expressive nose: notes of ripe peaches, apricots and pineapple cascade from the glass. The aromatic richness and complexity are underscored by touches of vanilla and pastry, dried fruits, yeast and honey.  Each sip of this structured, vinous champagne unleashes intense and complex flavors of fresh fruits, before morphing into a long finish that is both powerful and fresh.
Region and Grapes

Region: Champagne
Grapes: Pinot Noir, Pinot Meunier, Chardonnay
ABV: 12%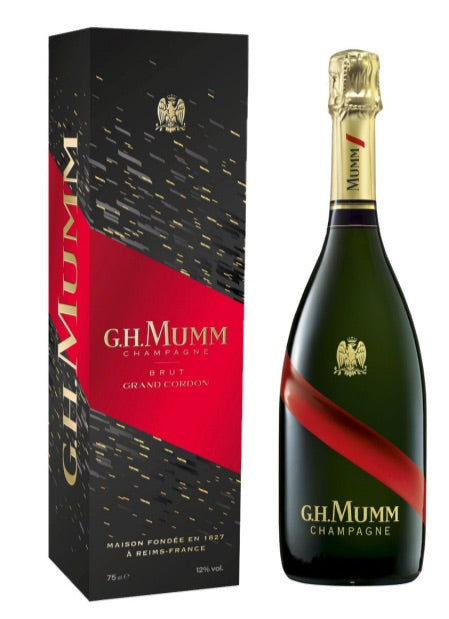 Our Scoring System
Our comprehesive guide to how we rate our wines.
The Cellarmaster Wines score is given out of 100 and this can be seen in our badges throughout the site. This is our independant rating.
Wines that score between 85-89 points receive a BRONZE badge.
Wines that score between 90-94 points receive a SILVER badge.
Wines with a score of 95 and over receive a GOLD badge.
Thumbs Up for Great Value Wines
Sometimes, a wine is not just great quality - but it's great value too. Look out for our THUMBS UP signal on product pages to know if a delicious wine is worth every penny.
Thumbs Up!
This is a great price which makes this wine great value.
BOTH Thumbs Up!
This is an amazing price and the value can't be beat!
The Cellarmaster: AK's Choice
Andrew Kemeny has been in the wine business for over 30 years and is the Cellarmaster of Cellarmaster Wines.
Look for our banner AK'S CHOICE to know which wines have blown Andrew away.
Critically Acclaimed
If a wine has won any competitions or awards, or has recieved positive reviews from sommeliers, wine connoisseurs or publications, then these will be listed under Critic Awards tab on the product page.