Xavier Vignon Arcane Le Soleil 2015
Multi Buy Price

HK$180

in any 6+

Multi Buy Discount Percentage

36% off rrp
Palate Profile
The 2015 Cotes du Rhone Villages Arcane XVIII Le Soleil is youthfully dark in colour and fruit-forward, but it also shows softening, silky tannins. It's full bodied but not overblown, with a sensationally seductive mouthfeel. Black cherries define the fruit, joined by hints of dark chocolate and enough garrigue to give it a seriously savoury character despite the fruit.
Each case of 6 comes in this original wooden case!
Region and Grapes

Region: AOC Côtes-Du-Rhône Villages
Grapes: 80% Grenache with 10% each Syrah and Mourvèdre
ABV: 14.5%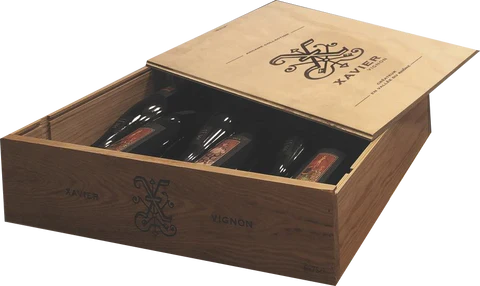 Our Scoring System
Our comprehesive guide to how we rate our wines.
The Cellarmaster Wines score is given out of 100 and this can be seen in our badges throughout the site. This is our independant rating.
Wines that score between 85-89 points receive a BRONZE badge.
Wines that score between 90-94 points receive a SILVER badge.
Wines with a score of 95 and over receive a GOLD badge.
Thumbs Up for Great Value Wines
Sometimes, a wine is not just great quality - but it's great value too. Look out for our THUMBS UP signal on product pages to know if a delicious wine is worth every penny.
Thumbs Up!
This is a great price which makes this wine great value.
BOTH Thumbs Up!
This is an amazing price and the value can't be beat!
The Cellarmaster: AK's Choice
Andrew Kemeny has been in the wine business for over 30 years and is the Cellarmaster of Cellarmaster Wines.
Look for our banner AK'S CHOICE to know which wines have blown Andrew away.
Critically Acclaimed
If a wine has won any competitions or awards, or has recieved positive reviews from sommeliers, wine connoisseurs or publications, then these will be listed under Critic Awards tab on the product page.