Pol Roger Cuvée Sir Winston Churchill 2015
Regular price

RRP HK$2,100

Multi Buy Price

HK$1,798

in any 6+

Multi Buy Discount Percentage

14% off rrp
Palate Profile
Champagne Pol Roger created their Prestige Cuvée in homage to Sir Winston Churchill mindful of the qualities that he sought in his Champagne: robustness, a full-bodied character and relative maturity.
The exact blend is a closely guarded family secret but it is undeniable that the composition would meet with the approval of the man to whom it is dedicated : "My tastes are simple: I am easily satisfied with the best".
With its splendid golden hue and coppery bright tints, this Champagne is captivating to the eye. The first nose opens with a subtle scent of dried rose petals before developing into well-rounded vanilla and candied fruit.
On the palate, the wine is balanced and underpinned with a hint of citrus fruit and delightful freshness. Enchanting and lucsious, as it opens up it reveals notes of pattiserie, quince and green tea, magnified by deliciously delicate bubbles, characteristic of this wine of power and character.
The high proportion of Pinot Noir in the blend lends the wine structure and length as well as a perfect balance of generosity and elegance: a veritable symphony of sensations.
Cuvée Sir Winston Churchill is only made in the very best vintages, and is always released later than the other vintage dated Champagnes from Pol Roger, marking Churchill's appreciation for older wines.
Region and Grapes

Region: Champagne
Grapes:
ABV: 12.5%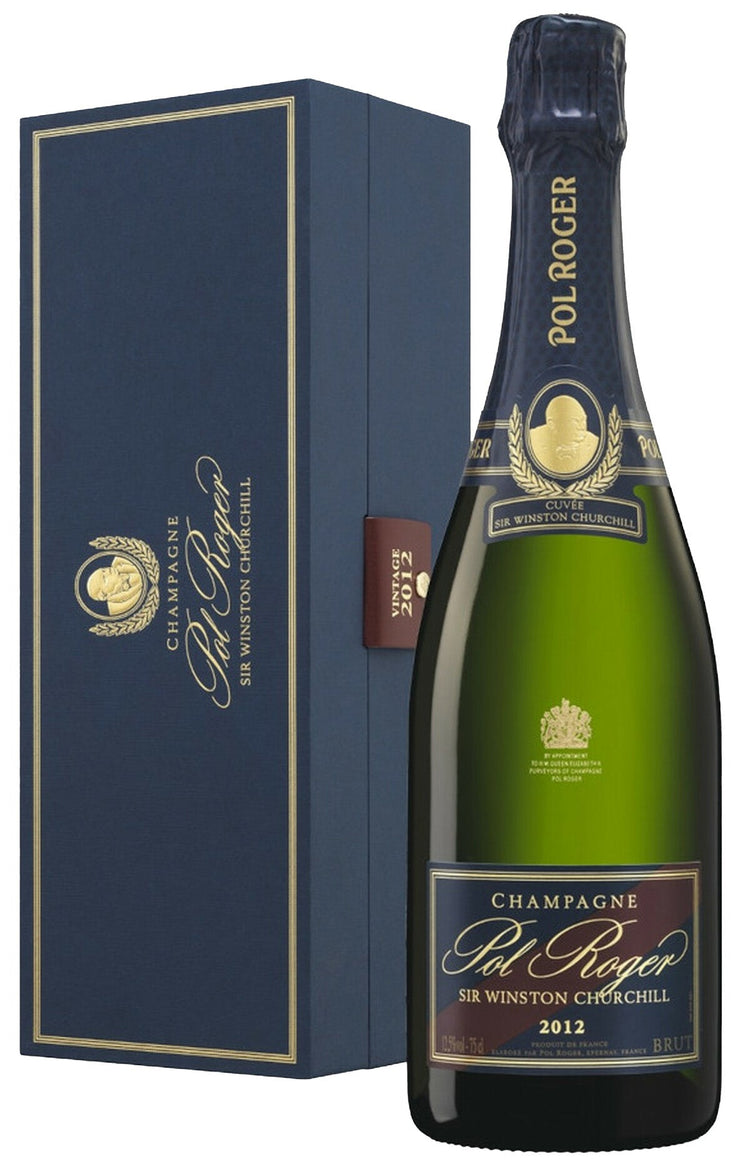 Our Scoring System
Our comprehesive guide to how we rate our wines.
The Cellarmaster Wines score is given out of 100 and this can be seen in our badges throughout the site. This is our independant rating.
Wines that score between 85-89 points receive a BRONZE badge.
Wines that score between 90-94 points receive a SILVER badge.
Wines with a score of 95 and over receive a GOLD badge.
Thumbs Up for Great Value Wines
Sometimes, a wine is not just great quality - but it's great value too. Look out for our THUMBS UP signal on product pages to know if a delicious wine is worth every penny.
Thumbs Up!
This is a great price which makes this wine great value.
BOTH Thumbs Up!
This is an amazing price and the value can't be beat!
The Cellarmaster: AK's Choice
Andrew Kemeny has been in the wine business for over 30 years and is the Cellarmaster of Cellarmaster Wines.
Look for our banner AK'S CHOICE to know which wines have blown Andrew away.
Critically Acclaimed
If a wine has won any competitions or awards, or has recieved positive reviews from sommeliers, wine connoisseurs or publications, then these will be listed under Critic Awards tab on the product page.